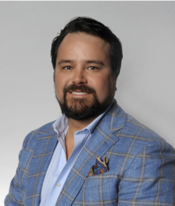 Matt Olsen is the great-grandson of Afonie & Christine Lukin from Afognak and Port Lions. His grandparents are the late Peter Gustav & Nina Knagin Olsen of Afognak and Kodiak. By the last count, he is 1 of 28 grandchildren from his generation. The Olsen family has blossomed to over 70 1st, 2nd, and 3rd generation members, many of whom live on island.
Matt and his college sweetheart Farrah have been together for 26 years, married for almost 16 years, and have three children. Together in their spare time, they share the love of travel, youth sports, and fishing.
Since founding his Company 19 years ago, Matt has served as a Managing Member of Kodiak Ventures, LLC, a vertically integrated Commercial Real Estate firm in Atlanta, GA. He aims to keep expanding his real estate business and portfolio, with the intention of passing it down to his children in the future.
Matt has served on the Koniag Board of Directors since 2016, where he has served as Treasurer since 2018. He is a shareholder of Natives of Kodiak, Inc, and Afognak Native Corporation.
Over the last nine years, Matt has coached many youth sports, including baseball, football, basketball, softball, and wrestling. Matt is also an active member of his Catholic Church, the Holy Spirit.
Matt has been a part of the board of KEF since 2021 and holds the position of Treasurer/Secretary. Matt advises students to "plan your work and work your plan. Keep your eye on the ball."